Posts for tag: mouthguards
By Novato Pediatric Dentistry
August 26, 2019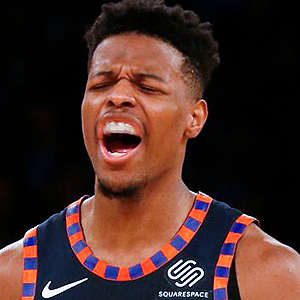 Basketball isn't a contact sport—right? Maybe once upon a time that was true… but today, not so much. Just ask New York Knicks point guard Dennis Smith Jr. While scrambling for a loose ball in a recent game, Smith's mouth took a hit from an opposing player's elbow—and he came up missing a big part of his front tooth. It's a type of injury that has become common in this fast-paced game.
Research shows that when it comes to dental damage, basketball is a leader in the field. In fact, one study published in the Journal of the American Dental Association (JADA) found that intercollegiate athletes who play basketball suffered a rate of dental injuries several times higher than those who played baseball, volleyball or track—even football!
Part of the problem is the nature of the game: With ten fast-moving players competing for space on a small court, collisions are bound to occur. Yet football requires even closer and more aggressive contact. Why don't football players suffer as many orofacial (mouth and face) injuries?
The answer is protective gear. While football players are generally required to wear helmets and mouth guards, hoopsters are not. And, with a few notable exceptions (like Golden State Warriors player Stephen Curry), most don't—which is an unfortunate choice.
Yes, modern dentistry offers many different options for a great-looking, long lasting tooth restoration or replacement. Based on each individual's situation, it's certainly possible to restore a damaged tooth via cosmetic bonding, veneers, bridgework, crowns, or dental implants. But depending on what's needed, these treatments may involve considerable time and expense. It's better to prevent dental injuries before they happen—and the best way to do that is with a custom-made mouthguard.
Here at the dental office we can provide a high-quality mouthguard that's fabricated from an exact model of your mouth, so it fits perfectly. Custom-made mouthguards offer effective protection against injury and are the most comfortable to wear; that's vital, because if you don't wear a mouthguard, it's not helping. Those "off-the-rack" or "boil-and-bite" mouthguards just can't offer the same level of comfort and protection as one that's designed and made just for you.
Do mouthguards really work? The same JADA study mentioned above found that when basketball players were required to wear mouthguards, the injury rate was cut by more than half! So if you (or your children) love to play basketball—or baseball—or any sport where there's a danger of orofacial injury—a custom-made mouthguard is a good investment in your smile's future.
If you would like more information about custom-made athletic mouthguards, please contact us or schedule an appointment for a consultation. You can learn more by reading the Dear Doctor magazine articles "Athletic Mouthguards" and "An Introduction to Sports Injuries & Dentistry."
By Novato Pediatric Dentistry
May 08, 2019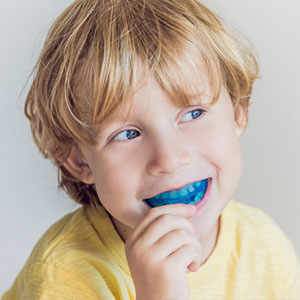 As spring weather heats up, so do a lot of outdoor sports like baseball or soccer. Unfortunately, the chances of sports-related injuries increase as well. Your child's mouth in particular is a prime target for injury—and you need to be prepared.
First and foremost, players should wear a mouthguard during contact sports to reduce their risk of injury. Mouthguards can absorb much of the force generated during impact—and may make the difference between minor bruising and a fractured or knocked-out tooth.
"Boil and bite" mouthguards available from the local pharmacy or sporting goods store are popular because of their cost and availability. These are softened in hot water before the wearer bites down to create a semi-customized fit. An even better option, though, is a custom mouthguard that is made from a precise impression of your child's teeth that we take in our office. This type of mouthguard costs more, but it provides greater protection and comfort than one from your corner store.
A mouthguard can significantly reduce the risk of injury but won't eliminate it entirely. If a dental injury does occur, you need to know what to do. This will depend mainly on the type of injury: If the tooth is chipped but not pushed out of position, you can collect any tooth fragments and see us within 12 hours for an examination and possible repairs. If the tooth has moved or is loose, you should see us even sooner—within 6 hours so we can readjust the tooth and, if needed, splint it until it is securely reattached.
A more serious injury is a tooth that has been knocked completely out of its socket. It can often be saved, but you'll need to act quickly—optimally, within 5 minutes—by reinserting the tooth in its socket. Although it sounds daunting, it's really a matter of a few simple steps: First, find the tooth and rinse off any debris with clean water. Holding it by the crown (the visible part you are used to seeing) insert the root end into the empty socket. If your placement isn't "just right," don't worry; we can adjust it later, but it will require some pressure to place it in the socket. Have the person bite down on a piece of gauze or clean cloth to hold the tooth in place. Call us immediately. If you cannot reach us, go to an emergency room.
Quick action and prompt follow-up dental care after a mouth injury increase the chance of a happy outcome. Along with proper mouthguard protection, remembering these pointers will help ensure that your family has an enjoyable sports season this year!
If you would like more information about sports-related dental injuries, please contact us or schedule an appointment for a consultation. To learn more, read the Dear Doctor magazine articles "Athletic Mouthguards" and "The Field-Side Guide to Dental Injuries."