Posts for tag: oral hygiene
By Novato Pediatric Dentistry
December 09, 2018
There are a lot of things we do without much conscious thought — habits we've developed over time. Some habits help streamline our lives for the good; others, though, hold us back or even harm us. A lot of these habits, both good and bad, form during our childhood years.
That's why it's important for you to guide your children into forming good habits. The goal is that when they're adults they'll "own" these habits, and their life will be healthier and happier because of them.
One particular area of habit-forming focus is dental care. It's essential your children develop good habits caring for their teeth and gums. The most important is a daily routine of brushing and flossing.
Brushing and flossing has one primary aim: to remove bacterial plaque, a thin film of food particles that builds up on tooth surfaces. Bacteria in plaque are the main cause for two potentially devastating diseases, tooth decay and periodontal (gum) disease. Allowing plaque to build up over just a few days can trigger an infection that inflames the gums or softens enamel leading to tooth decay. Left untreated these diseases can ultimately cause tooth and bone loss.
A daily habit of brushing and flossing, along with semi-annual professional cleanings, can drastically reduce a person's risk for these diseases. It's best to instill these habits and their importance as soon as your child's teeth begin to erupt in the mouth.
In the beginning, you'll be performing the habit for them: for children two and younger use a slight smear of toothpaste on the brush. As they get older, you can increase it to pea size. Eventually you'll want to help them learn to brush on their own. In this case, modeling the behavior — both of you brushing your teeth together — will have the biggest impact and help them see how important the habit really is.
Before you know it, brushing and flossing will become second nature, a habit they'll begin doing on their own without being told. Once instilled, it'll be a habit they'll practice long after they leave your care — and one they'll hopefully pass on to their own children.
If you would like more information on proper dental care for your child, please contact us or schedule an appointment for a consultation. You can also learn more about this topic by reading the Dear Doctor magazine article "How to Help Your Child Develop the Best Habits for Oral Health."
By Novato Pediatric Dentistry
October 10, 2018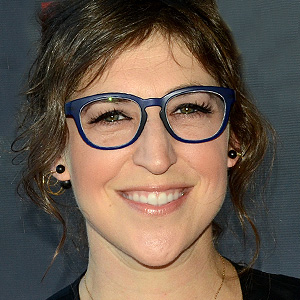 How many actresses have portrayed a neuroscientist on a wildly successful TV comedy while actually holding an advanced degree in neuroscience? As far as we know, exactly one: Mayim Bialik, who plays the lovably geeky Amy Farrah Fowler on CBS' The Big Bang Theory… and earned her PhD from UCLA.
Acknowledging her nerdy side, Bialik recently told Dear Doctor magazine, "I'm different, and I can't not be different." Yet when it comes to her family's oral health, she wants the same things we all want: good checkups and great-looking smiles. "We're big on teeth and oral care," she said. "Flossing is really a pleasure in our house."
How does she get her two young sons to do it?
Bialik uses convenient pre-loaded floss holders that come complete with floss and a handle. "I just keep them in a little glass right next to the toothbrushes so they're open, no one has to reach, they're just right there," she said. "It's really become such a routine, I don't even have to ask them anymore."
As many parents have discovered, establishing healthy routines is one of the best things you can do to maintain your family's oral health. Here are some other oral hygiene tips you can try at home:
Brush to the music — Plenty of pop songs are about two minutes long… and that's the length of time you should brush your teeth. If brushing in silence gets boring, add a soundtrack. When the music's over — you're done!
Flossing can be fun — If standard dental floss doesn't appeal, there are many different styles of floss holders, from functional ones to cartoon characters… even some with a martial-arts theme! Find the one that your kids like best, and encourage them to use it.
The eyes don't lie — To show your kids how well (or not) they are cleaning their teeth, try using an over-the-counter disclosing solution. This harmless product will temporarily stain any plaque or debris that got left behind after brushing, so they can immediately see where they missed, and how to improve their hygiene technique — which will lead to better health.
Have regular dental exams & cleanings — When kids see you're enthusiastic about going to the dental office, it helps them feel the same way… and afterward, you can point out how great it feels to have a clean, sparkling smile.
For more information about oral hygiene, please contact our office or schedule a consultation. You can read the interview with Mayim Bialik in the latest issue of Dear Doctor magazine.
By Novato Pediatric Dentistry
June 21, 2018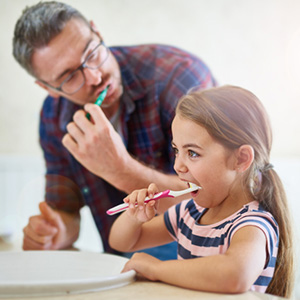 Your child's teeth and gum development is truly a wonder. In just a little more than two decades they'll gain and lose one set of teeth, while the subsequent permanent set will grow in coordination with other facial and oral structures. All of these structures will finally reach maturity sometime in early adulthood.
Sometimes, though, obstacles can arise: disease, trauma or even genetics can derail normal development and endanger future health. So although nature does most of the heavy lifting, there are things you should do to keep your child's dental development on track.
For instance, begin oral hygiene practices before their first teeth come in. By wiping their gums after feeding with a clean damp cloth, you can help reduce the numbers of disease-causing bacteria in the mouth. Once teeth appear switch to brushing.
There are also habits to avoid. Don't kiss your baby directly on the lips—you may transfer to them your own mouth bacteria, which their young immune system can't yet adequately handle. Also, avoid putting them to bed with a sleep-time bottle filled with sugary fluids (including milk or formula) because the constant contact between the sugar and their teeth could increase their risk for tooth decay, the number one dental disease in young children.
Of course, not all prevention efforts depend on you alone—we're your partner in helping to keep your child's dental development progressing normally. We can provide preventive treatments like sealants or topical fluoride to reduce the risk of tooth decay, while continually monitoring for signs of the disease that may require treatment. We also look for signs of emerging bite problems that may require intervention before their effects worsen.
This is all part of regular dental visits, usually at six-month intervals, which are best begun around your child's first birthday. Not only does this enable us to stay ahead of dental problems, it also helps your child become more comfortable with dental visits and increase the likelihood they'll continue the habit in adulthood.
As we said, nature is responsible for most of this amazing development without any help from us. But we can assist development and hopefully prevent issues that could diminish their dental health in years to come.
If you would like more information on supporting your child's dental development, please contact us or schedule an appointment for a consultation.